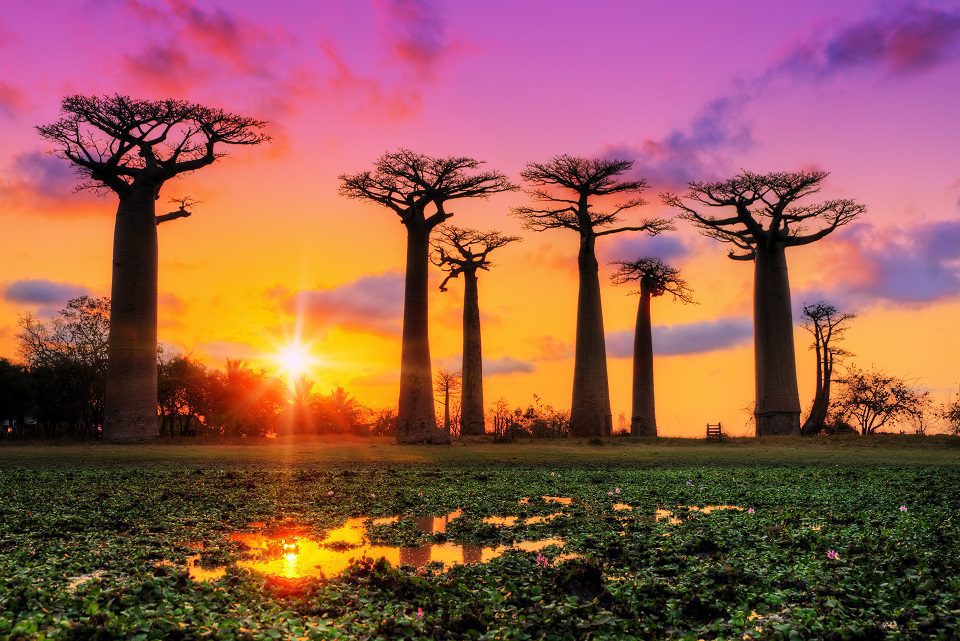 The air was thick and humid. Somewhere behind me a twig snapped, its break amplified by the silenced whizzed around hoping to see something (anything!), a mammal, a bird, an insect even, but… nothing.
Arriving in Madagascar, after so many years of watching wildlife TV shows, I had been expecting to see ring-tailed lemur at every turn, but I was soon discovering that here – much like anywhere in the world – if you want to see animals in the wild, you need patience and, crucially, someone who can help you actually spot them.
Enter Lilovic, my guide. We'd met just a couple of hours earlier on the shores of a tiny fishing hamlet on the island of Nosy Be, an hour from capital Hell-Ville (known by its old colonial name rather than its official title of Andoany).
Flung out into the ocean, off Madagascar's north-western tip, most intrepid visitors to Africa's famous Red Island skip this area, as it has a reputation for being more 'beach resort' than 'wildlife heaven'. Instead, they usually rush around the country at breakneck speed, cramming in a plethora of internal flights (many of which get cancelled or alter their departure time at a second's notice) into just two weeks.
So, while they see a lot, how much they can take the time to enjoy is another matter. But I had opted to linger in the far north and, hopefully, make each wildlife encounter memorable.
My trip started at a gentle pace, as Lilovic led me from the shore down to the sea, his pirogue (dugout canoe) bobbing on the waves. Getting to Lokobe Nature Reserve was possible only by water, and paddling there, as Madagascar's first settlers might have done some 2,000 years ago, seemed fitting.
After all, it was the comparatively late settlement of the island that helped cultivate its huge array of endemic plant and animal species.
With the sun high and conditions calm, the effort seemed worth it. As we pulled our boat onto the sand, a cackle of excited children ran to greet our arrival and followed us past the wooden huts that dotted the edge of the forest.
Soon, however, they lagged behind, their excited screams replaced with the calm stillness of the trees, only the odd rustle of mine and Lilovic's boots disturbing the peace.
I kept my eyes on high alert, turning at every sound to try and spy some of the reserve's famous wild residents. After around half an hour of pacing through leaves in the heat, I was starting to think there was nothing here but us, then Lilovic stopped dead in his tracks.
"Come, come," he gestured, and pointed with his machete to the branches above. There, staring down at me, were the two wide eyes of a sportive lemur. I felt my stomach tingle like I'd just shot off a huge drop on a rollercoaster and this was only the beginning.
From that moment on, the forest seemed to teem with life. Every time I looked and saw nothing, Lilovic's magic eyes would spot something. I'd pass a stack of dead leaves only to have him pick one up and show me a minute Brookesiachameleon, thought to be one of the smallest reptiles in the world, its little eyes peering up at me from under high- set brows.
I'd duck under a tree branch only for Lilovic to call me back to show me a boa constrictor tightly furled around it. Then there was the birdlife – from the long-tailed paradise flycatcher to the jet-black drongo, sporting a distinctive beak feather not to mention tiny brown mantella frogs, luminescent-green giant day geckos and yet more lemurs, this time black ones asleep in the trees in an indistinguishable duster farms, legs and dumps of fluff.
Then came Lilovic's piece de resistance. Just as we were strolling out of the forest, he stopped and urged me to look at what appeared to be a stick. "Here, here," he insisted, as I nodded and started to walk away. I couldn't see anything but he kept pointing.
Then it happened, like one of those Magic Eye pictures from the early 1990s, where after minutes of staring blankly at a sheet of coloured dots, a three-dimensional object suddenly appears. The stick wasn't a stick after all. It was a leaf-tailed gecko, merging seamlessly with the wood it sat on. I was instantly a westruck. Every detail on it seemed to blend in perfectly, right down to the little white spots that resembled pockets of lichen.
Scents and Sensibility
If my eyes had been trained by Lilovic at Lokobe, then my other senses were set fora workout on the mainland. Taking a speedboat from Nosy Be, l headed next to Ankify with my guide, Mihaja.
We turned north in our 4WD, rattling through the pothole-filled land and bound for the edge of Ankarana Ouest National Park, a destination made famous by its spiny rock formations, known as tsingy.
I had looked at pictures of these razor-sharp pinnacles in books before l'd left and longed to know how they felt under my fingers. But before l could test my grip, there was a different treat in store: a stop at the Millot Plantation.
"Ylang-ylang," said Axel, the plantation guide, as we strolled through an avenue of wizened-looking trees all hunched over like little old men with walking sticks. The sweet scent permeated my nostrils, overwhelming me with its fragrance as he crushed a leaf between his fingers and held it under my nose.
Axel explained that thousands of kilograms of these plants are harvested each year to produce essential oils, which are shipped all over the world.
As we walked, he collected yet more flowers and foliage and handed them to me. I inhaled their scents greedily, from combava – the leaves of which had a distinct citrus smell – to vanilla pods, which have to be pollinated by hand here because no insects endemic to Madagascar can do the job.
The fragrances kept coming: pine fruit, jasmine, the four spices tree with its musky aroma of pepper, nutmeg, clover and cardamom. Lastly, he handed me a clutch of ravintsara, known locally as "the good leaf" that is used to make an ointment similar to Vicks VapoRub, to help with bad colds.
But it wasn't just the smell making me smile, the ethos of the place was just as pleasing. "All plants are grown here without any chemicals and checked every day by hand," explained Axel. "And we try to encourage and teach the local people how to grow them, too. That way we can buy the raw products off them and keep the money within the local community."
It's not only oils and spices that are found at Millot, though. The main product here is cacao -the raw ingredient of chocolate. Axel led us through afield of t reel with giant pods the size of beer cans.
Some were yellow, others green or blushing pink – the premium grade. Taking out a knife, Axel cut off the top of one and pulled out a string of peal-like beans, gesturing for me to take one. I felt the slimy innards between my fingers, its tangy smell sweeter than any mango. As I chewed on it, a rich flavour exploded in my mouth.
"Theobroma cacao, it's an aphrodisiac and good for your health," he explained.
We continued on to a hut where women sorted through the nuggets of cacao – now dried out and resembling large coffee beans – before tipping them into hessian sacks. Here they undergo a process of fermentation over a period of several days, then are dried in the sun before being sorted and exported abroad to make some of the most expensive French chocolate that you can buy.
As we left Millot and made our way further north, we drove by other plantations. This time, however, l could recognise the odd waft of ylang-ylang or the subtle tones.
Peaking early
We finally reach lharana Bush Camp later that evening – a duster of mud and stick houses perched around a lake, just outside the national park. Here, and continuing into the park itself, the landscape formed a flat and sprawling savannah, every so often punctuated with dusters of rocky peaks.
But on closer inspection the rises were not single mounds at all, but rather collections of karstic limestone formations known as tsingy – either from the Malagasy word for 'cannot walk on barefoot' or 'pointed peaks', depending on which guide you speak to.
The next morning I discovered that both descriptions were pretty apt. These needle-like protrusions, formed by water undercutting the limestone and gradually eroding fissures and caves, felt almost forest-like as I'd imbed between them. They were regarded as sacred by early settlers of Madagascar, who would perform spiritual services among these otherworldly formations.
Locals like Joe, my guide, would only gesture to them with a bent index finger as a sign of respect. Through a thick French accent he described what he could see in the shapes of the rocks, from people's faces to crocodiles, and like the wooden forests of Lokobe before them, the stones began to come to life before my eyes.
After teetering on some rope bridges that had been precariously slung between peaks, I followed Joe down into one of the caves. interspersed with tree roots that steadfastly pushed their way through the ground, we Eh our way slowly through the tunnels, stopping to gasp every few metres as the quartz in the calcium glistened in the sharp beam of our headtorches.
Later in the afternoon we headed to another set of tsingy, to descend into a cave that was a full kilometre in length. It was here that some of Madagascar's early settlers actually lived, and Joe showed me fragments of ancient pottery that were accompanied by scorch marks from fires.
Before Leven saw them I knew what was coming next. The scent of the guano was more pungent than anything I'd smelt before. Then came the siren-like squeals.
We emerged into a cavernous room, large enough to fit in several houses, and looked up. There, on the roof, were thousands of bats, readying to go out and hunt for the evening. They swarmed and swooped around us, effortlessly graceful. I was so distracted by them that I nearly missed the snake slunk at my feet, its scales glowing electric blue in our torchlight.
Further on, we found a small rock pool where blind fish lay in wait, having evolved underground without the need for sight. "Some other caves here even have crocodiles," explained Joe, as he gestured to alone bat trembling on the wall by my head, a giant spider sitting just centimetres from it.
We emerged back into the daylight just as the sun was starting to slump towards the horizon. For the first time in the trip we hurried, heading up to reach a viewpoint on the top of the tsingy, just in time to see the sky turn crimson in the sunset. It was slightly surreal to be back on the surface, knowing now exactly what lay beneath.
The Eyes Have It
My last stop saw me head back to Ankify, then on to the north-west region of Sambirano Domain by boat. Here at Eden Lodge, beside the water, lay a handful of tented rooms surrounded by Madagascar's ubiquitous and friendly looking baobab trees. It was there that I met Philippe, who took me on a stroll over the headland.
We set off early, before sunrise proper, and within half an hour we had already seen more birds than lever thought possible, from sunbirds to sickle-billed vanga and more. Philippe could identify each one from their call alone, mimicking their chirps as he heard them.
Later, as the sun set, we met by the trees fora night walk around the forest. Now, after several days of learning to use all my senses, I could recognise the call of the black lemurs through the darkness, their screeches gurgling and grunting like across between a pig squeal and a power tool struggling to start.
I watched as these silhouetted creatures leapt from branch to branch, gorging on mangos before hurling them to the ground – often just centimetres from where we stood – with cries of devilish glee. We ended on the beach, where Philippe told me to turn on my torch. As I did, I gasped as hundreds of crabs scuttled all around me, their bodies white and ghost-like in the beam.
On the final day, I took to the water with a snorkel, keen to see what life lay beneath the waves. Philippe had hoped to show me the turtles that come here to feed, but I only saw what I imagined was the back of one of their shells as it darted off into the coral.
Back on land, he apologised for the lack of activity in the sea, but I was unconcerned. As I sat on my hammock in the afternoon sun, I began to hear the chirps of the birds. While I couldn't identify them, I could now at least tell that there were three different species there. As the breeze swung me from side to side, I could smell the vague scent of lemongrass and smiled.
This trip had not only taught me to see more, but also to look closely at places and things that I may not have otherwise bothered with before.
Facing the waves, I relaxed and suddenly noticed something in the water. Just for a second, the head of a turtle popped up, took one look at me, then dived back under the surface. One turned into two, into three, then four. In just a few days, with a little bit of patience, I could now see the unseeable. Lilovic would have been proud.
Vital Statistics
Capital: Antananarivo
Population: 22 million
Languages: Malagasy and French
Time: GMT+3
International dialling code: +261
Visas: Required by UK nationals, with short-stay visas issued on arrival (€25/ US$25/£20) and valid for up to 30 days
Money: Malagasy ariary (MGA), currently around MGA4,047 to the UK£. You are legally required to change money in banks and hotels, though most guides can find you better rates.
ATMs are available in Hell-Ville but are not very reliable. Most bars, restaurants and hotels accept credit cards anyway, and many also take Euros.
When to Go
May-June – July-October
Milder and dryer – pleasantly warm (temperatures around 26°C) with rare showers. The landscape is very green and the tsingy can be walked on safely.
January-April – November-December
Rainy season – expect warmer, more humid temperatures (26-32°C), as well as daily, sometimes torrential, downpours. Cyclones are typically common between January and March.
Health & Safety
Consult your doctor before travelling, with vaccinations against diphtheria, hepatitis A and B, tetanus, TB and typhoid advised. Malaria prophylaxis is highly recommended, and take DEET insect repellent and sunscreen with you. Always drink bottled water.
The Trip
Getting there
The author travelled with Rainbow Tours. A similar seven-night trip to northern Madagascar, including accommodation, local guides, airport, speedboat and 4WD transfers, park permits, guided trips to Ankarana Ouest, Lokobe and the chocolate plantation, plus activities and most meals from £3,525 per person (including international flights).
Getting There & Around
The author flew with Air Austral, who offer flights from the UK via Paris CDG to Nosy Be three times a week from £987 (flight time around 20 hours), including the opportunity of an extended stopover on Reunion.
On board there are three levels of service: Loisirs (economy), Confort (premium economy) and Club Austral (business class). Taxis are available at Nosy Be airport, but agree a price before travelling. Internal flights are renowned for being cancelled or rescheduled without notice. In planning a trip to this part of the country, try to take advantage of boat and 4WD transfers, which are usually much more reliable.
Accommodation
Nosy Lodge is 40 minutes' drive from the airport, away from the hustle of Hell-Ville. Beach huts overlooking the sea.
Eden Lodge is a luxury eco-lodge with thatched huts sheltering safari-style tents among the baobab trees and wild lemurs.
Located beneath the tsingy limestone formations is Iharana Bush Camp. Expect local-style bungalows with some well-placed terraces.
Cost of Travel
Madagascar has something for all budgets. However, as a long-established destination, prices in Nosy Be are closer to those of EU cities. Overall, expect to pay about €13 (£11) for a meal and €2.50 (£2) for a beer or coke. Tipping is expected – be sure to set aside small bills for this.
Food & Drink
French and Western food occupy most hotel menus, but Malagasy cuisine (heavily influenced by South-East Asian and Indian spices) is well worth trying. National dish romazava – a meat and veg stew – and Zebu steaks are popular, as is seafood. Vegetarians may struggle, but staff can usually adapt dishes to suit.
Madagascar Highlights
Lokobe Reserve
Grab a canoe and a local guide to head into this lemur-rich reserve, with the chance to spot several varieties of this Madagascar native as well as chameleons, snakes and more.
A night walk in the woods of Sambirano Domain
Once the sun sets here, you can't beat an expert-guided stroll through the dark, where lemurs call, bats dart, and crabs scuttle between your feet.
Snokelling for sea turtles
Setting out from Eden Lodge, this very easy 100 m swim to the coral affords a great chance to spy on the green turtles that feed here.
Ankarana National Park
Both inside and outside the park, you'll find clusters of otherworldly limestone tsingy. Climb them, then go underground to find the sacred caves beneath.
Chocolate Plantation, Ambanja
Follow the journey of chocolate, from cacao pod to fully formed bar, at the plantation near Ambanja. It provides cocoa to the famous Chocolaterie Robert, and you can also learn about ylang-ylang and other home-grown essential oils, as well as vanilla pods and coffee beans.